Blog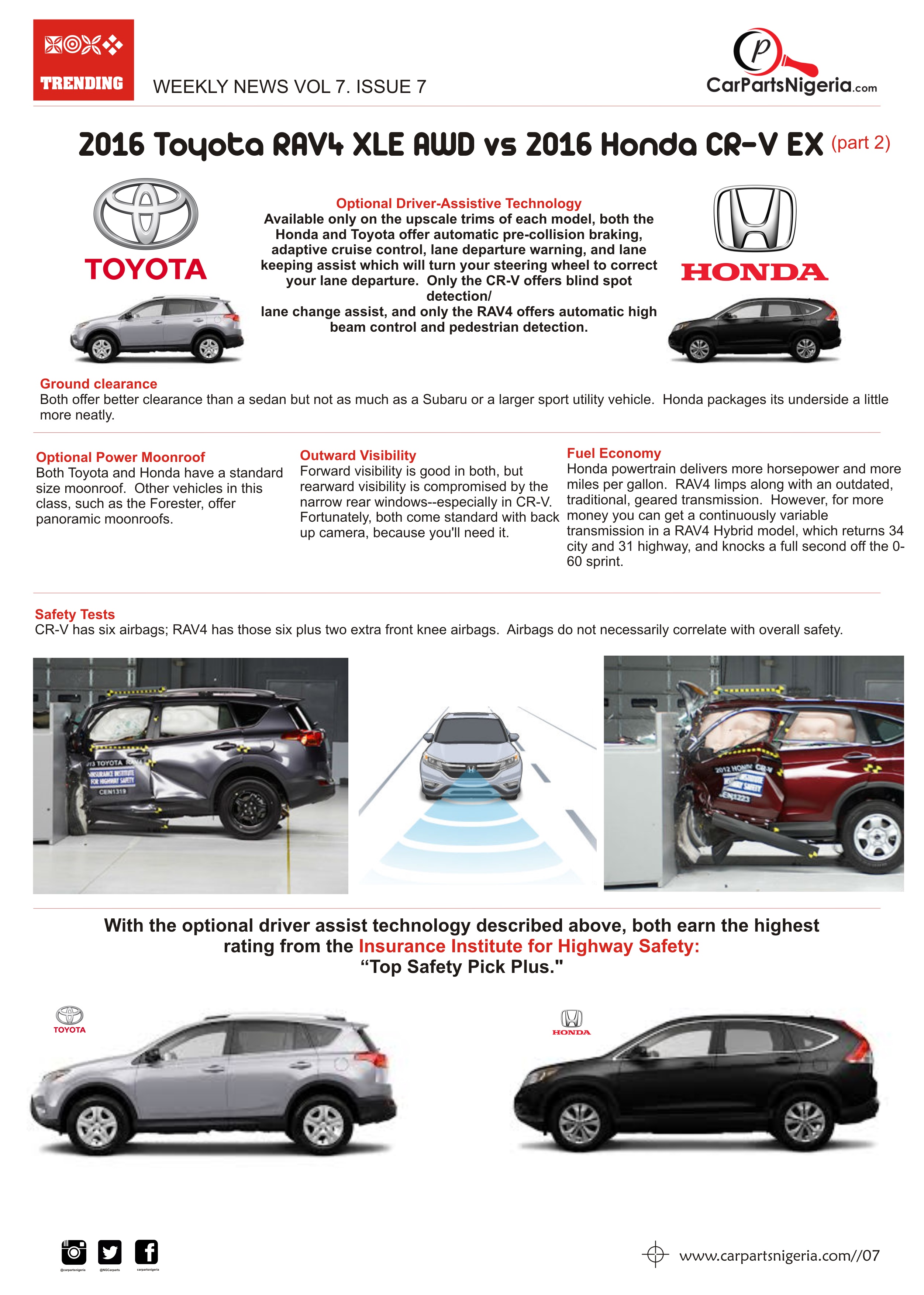 2016 TOYOTA RAV4 XLE AWD vs 2016 HONDA CR-V EX AWD (pt. 2)
Carpartsnigeria Special Issue Vol:7 Executive Summary reviews that both of these "Small Sport Utility Vehicles" are about the same size and offer value, space, and fuel economy. Priced almost the same at about $26,000 comparably equipped, you can drive a safe, stylish, and practical vehicle with a great reputation for quality. You can get either one with front wheel drive or all wheel drive, though the many safety and performance benefits of all wheel drive are well worth the small price premium.

Motor Trend was so impressed with Honda's improvements to the CR-V that they named it 2015 Sport Utility of the Year. ... Read more
Posted on April 2016,29 // Author: Admin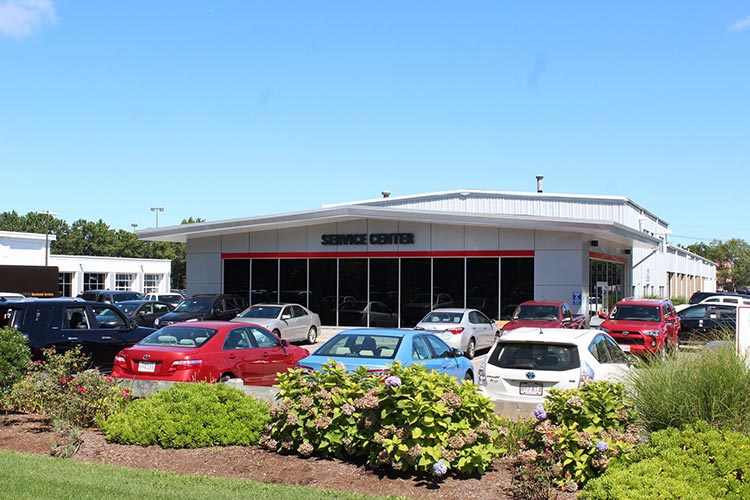 DO YOU TRUST YOUR MECHANIC?
What it all boils down to is trust. You have to trust a repair facility to charge you fairly for the work they do, to actually do the work for which you are being charged, to accurately diagnose and repair your car, and to complete the repairs in a reasonable amount of time. To avoid being scammed, overcharged or ripped-off, you need to find a repair facility you can trust.
Don't wait until your car is broken to start looking for a reputable repair facility. Do your looking ahead of time and establish a working relationship with one or more repair facilities by having them do your basic maintenanc... Read more
Posted on April 2016,27 // Author: Admin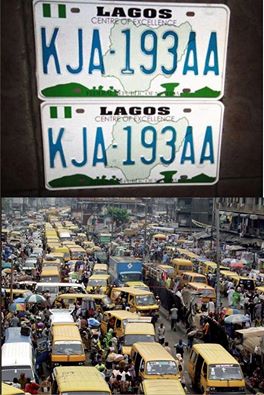 WHO IS RESPONSIBLE FOR FAKE NUMBER PLATES. WHY ARE INNOCENT PEOPLE BEEN HELD RESPONSIBLE
WHO IS RESPONSIBLE FOR FAKE NUMBER PLATES. WHY ARE INNOCENT PEOPLE BEEN HELD RESPONSIBLE. The story below caught the attention of CPN....
I Think it's time we stop over focusing on this PDP/APC, PMB and the rest issues and start looking where our problem is. I believe our problem is in the institutions of this country. I don't want to mention that of police now its for another day. It was on the 14th day of March that a private car owner drove into one of the police station to obtain the new tinted glass permit, in t... Read more
Posted on April 2016,04 // Author: Admin

Merry Christmas & Happy New Year from CarpartsNigeria
Dear Customers,

As we enjoyed time with our family this holiday season, we had opportunity to reflect on the things in life for which we are most grateful. Obviously, family and dear friends came to mind, along with the necessities of life that are so often taken for granted. We also found ourselves thinking of our loyal clients – those like you who have chosen to become part of the CarpartsNigeria family.

At this time, as we start a New Year (2016) and strive to live up to the resolutions we set on New Year's Eve, we'd like to take the opportunity to personally thank you for c... Read more
Posted on December 2015,30 // Author: Admin

STOLEN VEHICLE 
Please Help CPN Customer - STOLEN VEHICLE - Silver Toyota Corolla
I would like to bring to your notice that my car was stolen on Sunday, 20th December 2015 around 4:20pm where we parked opposite Basketball Court, Ilupeju, Lagos. I have reported to the police who are already conducting their search.
Car details below:
Make: Toyota Corolla 2004, LE Version
Colour: Silver
Reg. No: KUJ 181 HN (Abuja)
Chassis No: 2T1BR32E54C221324
Description:
There's a slight crack on the windshield that runs from the top to bottom at the cen... Read more
Posted on December 2015,24 // Author: Admin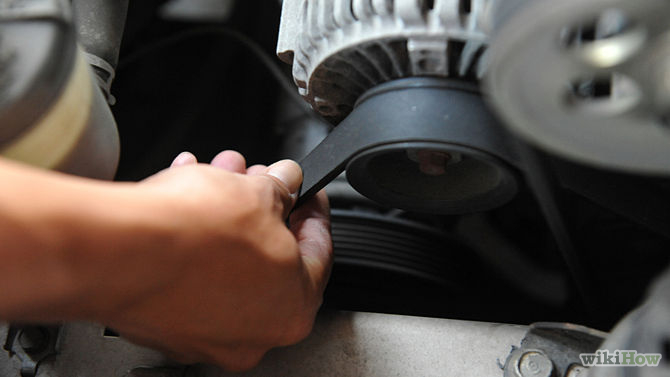 ENGINE - CHECK YOUR BELTS
CHECK YOUR BELTS
At the front of your engine there will be a series of rubber drive belts that loop around various pulleys, driving everything from the alternator to the a/c compressor. Rubber perishes, more so in extreme conditions like those found in an operating engine bay. Get your timing belt and accessory drive belt checked every 25,000 miles, preferably replacing it every 50,000 miles
Read more
Posted on December 2015,22 // Author: Admin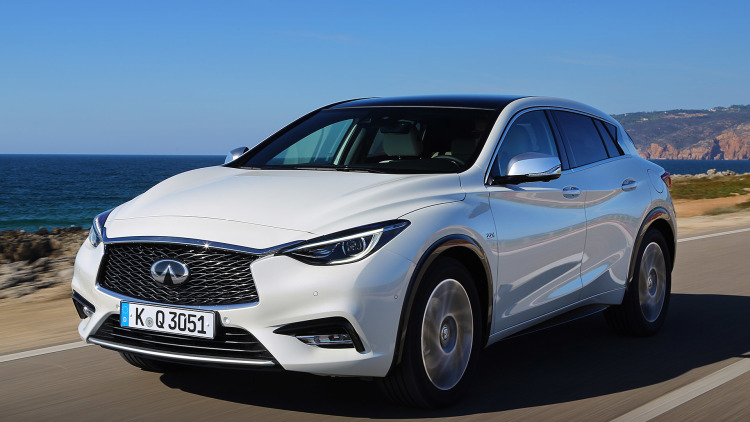 2017 Infiniti Q30
2017 Infiniti Q30 First Drive
Audi and BMW have owned the premium C-segment for almost a decade now thanks to the A3 and the 1 Series (and 2 Series). Benz's A-Class has become less of a retiree's option and has spawned a popular (if not particularly good) sedan (the CLA) and a crossover (GLA). Down in the lower-class decks, machinery from Subaru is punching well above its weight, while Volkswagen's Golf owns the market in Europe.
This all left perennial premium pretenders like Lexus and Infiniti with a problem: how to convince buyers their C-segment machinery was genuinely premium if they were based off a volume-sellin... Read more
Posted on December 2015,10 // Author: Admin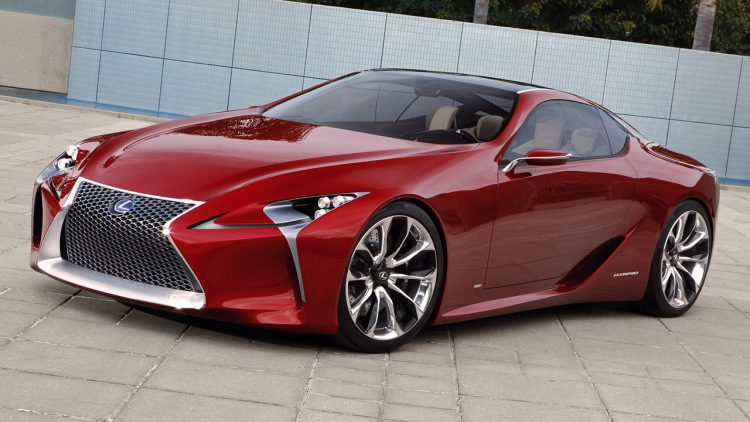 Lexus LC 500
Lexus LC 500 coming 2016
Believe it or not, it's been nearly four years since we first saw the Lexus LF-LC Concept. Its swoopy style and spindle grille kicked off a big design revolution for Lexus, and we saw a number of LF-LC design elements work their way onto production cars. But now, rumor has it a full-on production version will see the light of day, and soon.
Motoring.com.au says the LC 500 coupe will show its face at the 2016 Detroit Auto Show in January, and we have little reason to doubt this. In fact, it's kind of been a long time coming. The LC was reportedly approved for production in 2... Read more
Posted on December 2015,10 // Author: Admin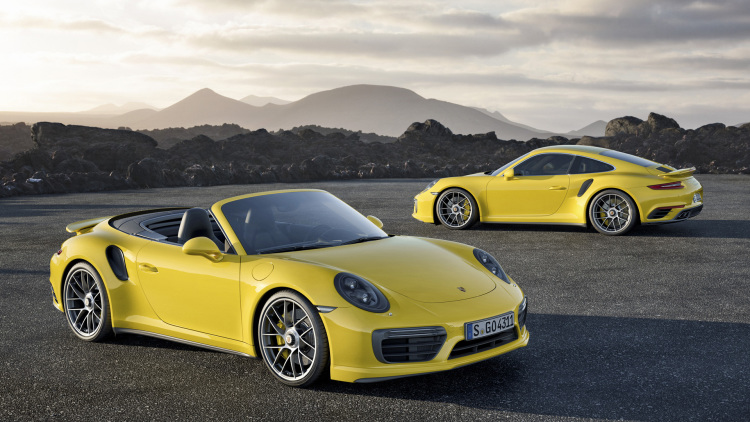 Porsche turns up boost on 911
Porsche turns up boost on 911 range with new Turbo and Turbo S

You didn't honestly think Porsche would stop with just a turbocharged Carrera and Carrera S, did you? No, that'd be silly. Of course Stuttgart had to follow up those two smash hits with a new Turbo and Turbo S. Naturally, both cars build on the 370-horsepower Carrera and 420-horsepower C2S.
The base Turbo offers 540 horsepower and starts at $160,195, while the Turbo S packs 580 horsepower and demands an extra $28,900. Adding a folding fabric top to either model will drive the cost of entry up by $12,300, regardless of o... Read more
Posted on December 2015,04 // Author: Admin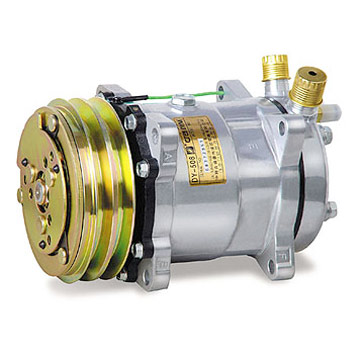 AC COMPRESSOR PROBLEMS, PRICE AND BRANDS
AC COMPRESSOR PROBLEMS, PRICE AND BRANDS
AC Compressor troubleshooting
The air conditioning compressor is one of those parts of the car that are typically used for long hours and typically gets a lot of usage. It has been seen that AC compressors are generally reliable and don't fail easily.
If it does, it is often because of some other reasons. The point is, never replace a compressor in a hurry without detecting the full problem. Otherwise it is quite likely that the new one will also fail.

Why AC Compressors fail
Before we go on pinpointing the r... Read more
Posted on November 2015,21 // Author: Admin