Blog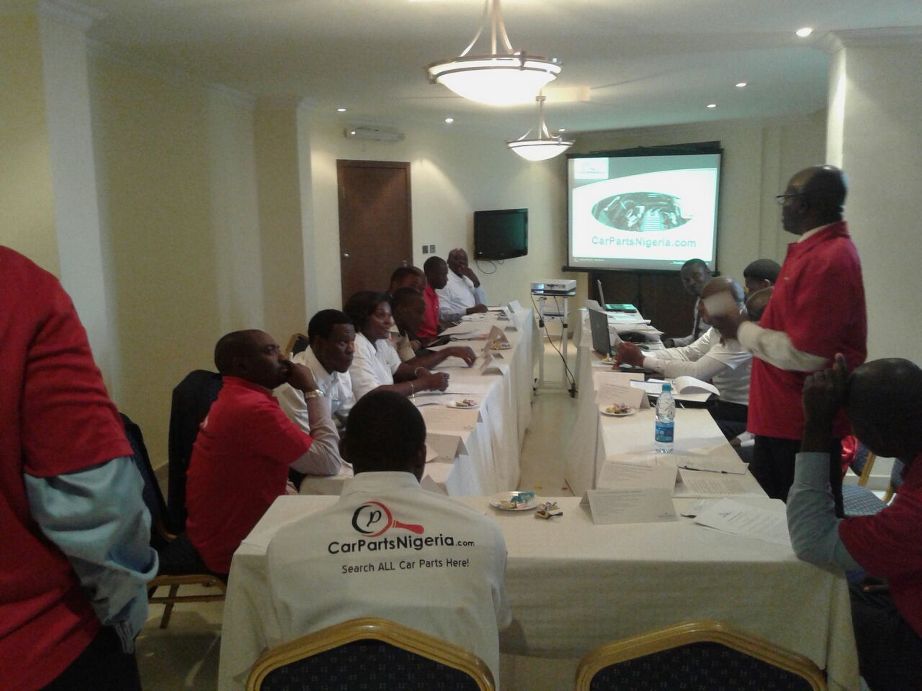 CarPartsNigeria First Executive Agent Conference
CarpartsNigeria.com held its first Executive Agent conference at the PROTEA Hotel on Awolowo Rd, Ikoyi on September 2nd 2014. It was a great evening of discussion and training for some of our agents.
The company was born out of the need to centralize parts inventory across the nation. A place to find difficult auto parts, reduce high prices and ensure that trust worthy vendors can compete and satisfied buyers can appreciate great business. We vet and rate our vendors so we can alleviate their customer service records and bring them closer to the customers.
CarPartsNigeria.com was incorporated in Nigeria to allow us bring, auto-parts vendors and clients together in a multi-dimensional space – Online. Our purpose is to add value to our vendors and their products by bringing them closer and faster to their customers and giving them access to markets that were not originally available.
Secondly, to give everyday clients – a one stop shop for all their auto needs – new and used car parts, new and used car sales, Auto Auctions, and access to verified service contractors that have been vetted and reviewed by multiple clients. We hope to enhance the auto-trade industry, starting with Nigeria and Ghana and eventually, our strategic goal of reaching all the countries in continental Africa. We offer not just vendor car sales like most of our competitors.
We offer Auto parts Sales (New and Used) through our vendors. We have also included a REAL-TIME auction Site (First in the country) that allows individuals and vendors to list(s) their automobiles or bikes on the AUCTION. These are a few of our competitive edge in this sector. Our site also includes a VIN verification button that allows you to see a history of your auto configuration instantly. We have a Fast and scalable online platform. We also bring a search that can bring buyers closer to their prospective vendors – Our searches will show you the location and miles of the vendors to the buyer's location.
Our product and service is based online (an online Auto Parts search engine) and has been developed to cater to Auto supply products and service vendors like Retailers, Wholesalers, Importers and Exporters, Mechanics, Auto electricians, Car Locksmiths etc.., and to create a greater experience for the clients using technology. This service is to enhance the customer's experience, saves money, time and reduces the headache of finding reliable Vendors. We hope to develop programs to encourage improved business practices among member companies.
Posted on September 2014,20 // Author: Admin