Blog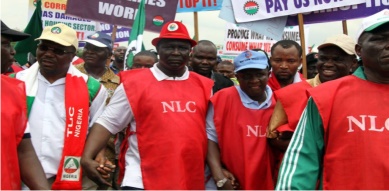 WHAT NEXT? NIGERIA OIL OUTPUT, NAIRA SLUMP, ATTACK AND STRIKE THREATS
LAGOS, Nigeria (AP) -- Militant attacks on oil installations and a threatened nationwide strike are driving Nigeria's petroleum production and its naira currency to new lows.
Angola has become Africa's biggest oil producer as Nigeria's output slumped to 1.4 million barrels a day, Oil Minister Ibe Kachikwu said Monday, endangering a budget based on production of 2.2 million barrels. Angolan production was steady at near 1.8 million barrels daily, according to the Organization of Petroleum Exporting Countries.
The naira fell to 350 to the dollar on the parallel market, against an official rate of 199, amid reports and denials that President Muhammadu Buhari's government plans an imminent devaluation, bowing to demands of the International Monetary Fund in exchange for soft loans.
Nigeria's National Labour Congress and the Trade Union Congress, which say they represent 6.5 million workers, and some civic organizations called for a strike Wednesday to protest a 70 percent increase in gasoline prices, forced by shortages of foreign currency. Nigeria is dependent upon imports with oil accounting for 70 percent of government revenue.
The crisis is dividing labor leaders on religious and ethnic lines, with those from the mainly Muslim north against the strike and Christians who dominate the oil-producing south urging citizens to "Occupy Nigeria!" Buhari is a northerner.
The division may mean that the country will not be subjected to the massive protests that forced the previous government to shelve plans to do away with a fuel subsidy in 2012, although many Nigerians are stocking up on food and water.
Inflation officially rose nearly 14 percent last month and prices of food and electrical goods have doubled while tens of thousands of workers have not been paid in months. Many angry Nigerians say the government could not have chosen a worse time to drop the fuel subsidy, though shortages forced people to pay double the fixed price anyway.
Some 70 percent of Nigerians are living below the poverty line, according to the United Nations, despite the country's wealth.
Buhari took over a year ago from President Goodluck Jonathan, whose government is accused of looting the treasury of billions of dollars.
The threatened strike comes as militants in the Niger Delta resumed attacks and forced oil majors to evacuate some workers. There are reports the Niger Delta Avengers are sponsored by southern politicians to sabotage Buhari. The president has deployed thousands of troops to the area, where the Avengers are demanding a greater share of the country's oil wealth and protesting cuts to a 2009 amnesty program that paid 30,000 militants to guard installations they once attacked.
Posted on May 2016,17 // Author: Admin