Blog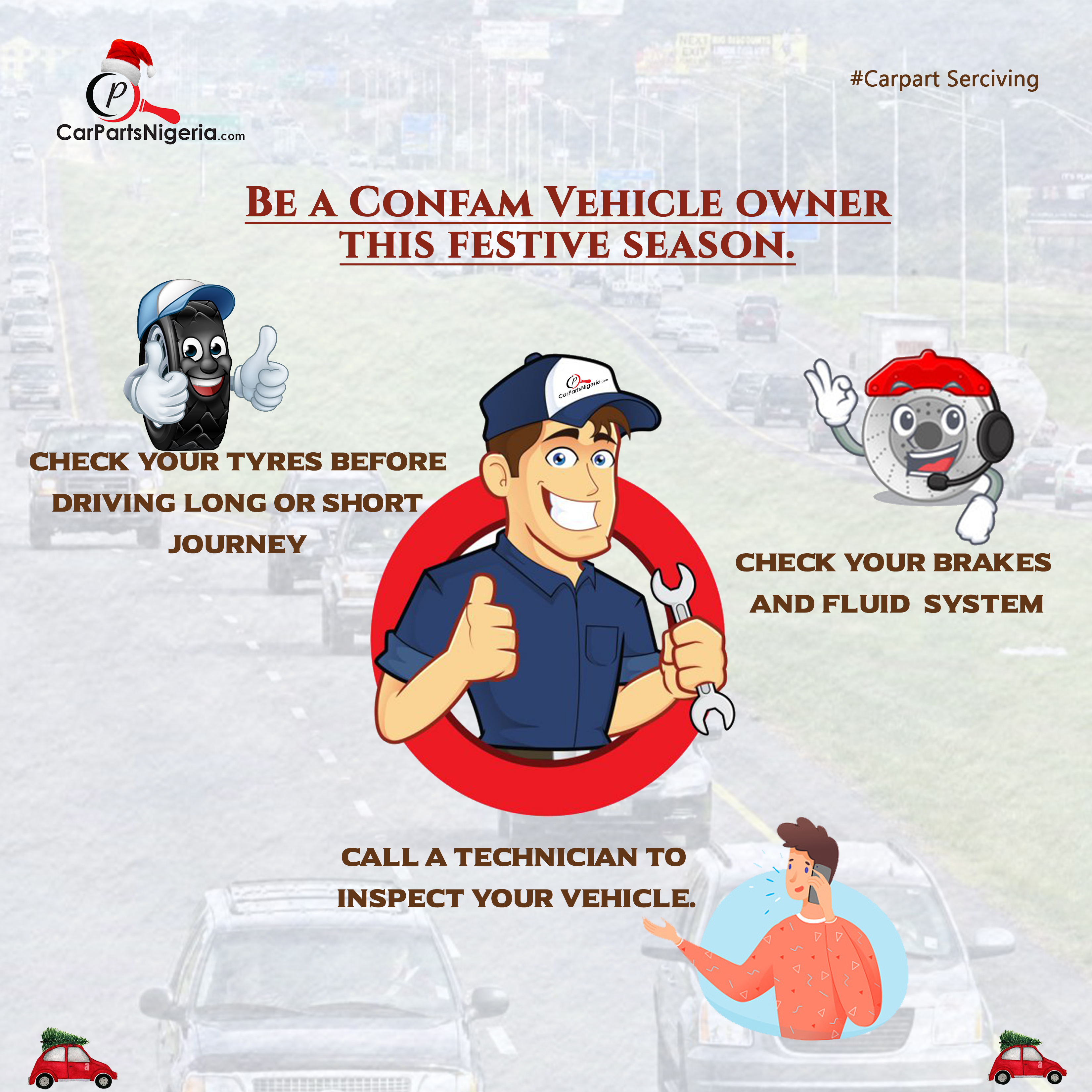 How To Be A Confam Vehicle Owner This Festive Season
One observable happening about the festive season is movement or call it traveling. People will travel both far and near to see their loved ones, families and associates.
Some have been far from home since the begining of the year and the festive season is the best time to come around to make merry and bond with one another.
While traveling by road, You do not want to be harassed by the VIO officers, policemen at check points or open yourself up to attacks by kidnappers, bandits when u pull over due to a mechanical fault you could have avoided.
As a Vehicle Owner, you have to be Confam, and not a suegbe, meaning you must ensure your vehicle is in good working condition to avoid any unfortunate event in the course of traveling.
The Following are the basic things to confirm to be Confam:
1. Check your tyres:
- Check the expiry date of the tyres.
- Check your tyres guage.
- Have extra tyre(s).
2. Check your Brake and Fluid System
- Check the break pad teeth and also the wheel drum if they have reduce in shape.
- Check if the brake oil is gauged.

- Also check the master break and caliper to know if they still function and grip same time at a go
3. Call a Technician for inspection
- It is advisable that you call a technician for thorough inspection of the vehicle. You cannot inspect the vehicle the way a trained person will.
We all know how bad the roads are in the country, so help yourself by doing the needful.
*This message is sponsored by Carparts Nigeria Car servicing and Fleet Management.
For more enquires Contact us 09099995678.
Follow us on facebook: Carparts Nigeria
Posted on December 2021,09 // Author: Admin