Blog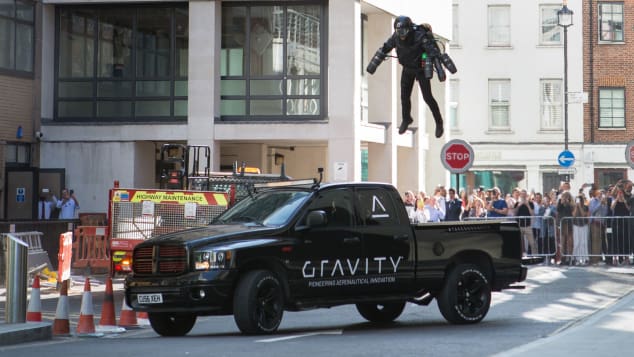 Real-life iron man suit is up for sale. Just in case you're tired of traffic.
Richard Browning is ready for take off. He lights his engines, bends his knees, and the next minute he's ascending into the air. He hovers, defying gravity, before he begins to fly up and down an ordinary London street.
No, this isn't a scene from a super hero movie -- this is Britain's real life "Iron Man" in action. Browning has created a state-of-the-art flying suit that rivals anything you've seen on the silver screen.
Want to get a piece of the action? Browning's jet suit is now officially on sale -- for no less than £340,000 (roughly $442,396).
This incredible invention was built by Browning using 3D printed parts, specialist electronics and five jet engines. Once you've strapped it on and mastered the basics, you can soar at speeds of 32 miles per hour and ascend to altitudes of 12,000 feet.
"I get asked the question, why?" Browning, a 39-year-old former oil trader in the City of London, tells CNN Travel.
"Well, I suppose fundamentally it's I like a challenge."
The inventor was inspired by his time with the Royal Marines -- he worked for some years as a reserve.
"[In] that environment you get to learn quite quickly that you can push yourself to quite some degree," says Browning. "And what would happen if you added some flight horse power to that machine, that can learn to adapt and coordinate in such an elegant way?
Browning began experimenting with creating a jet-powered flying suit, keeping it on the down low at first, to avoid raising expectations.
"I started developing this idea of a novel form of human flight," he says. "And I honestly just did it alongside my day job in evenings and weekends."
As the concept developed, he decided to take the leap from side project to main focus.
"I think you only live life once and I didn't want to have the regret of not pursuing this," he says.
Browning launched his flying company, Gravity, in Spring 2017, based from his home in Wiltshire. The world took notice, and the epithet, "Wiltshire's Iron Man" caught on. Wiltshire's a relatively quiet, rural county in Britain -- a surprising spot to build a superhero flying suit.
"We didn't build this to build an Iron Man suit," clarifies Browning. "It did become apparent quite early on that actually there were some wonderful parallels [...] The Iron Man CGI community that actually did the early films actually reached out to us, joyously, and were very excited to see that it turns out that all their thinking that they'd done around what this might be like, was actually really very accurate.
So it's a great link that I love people to make when they see it."
Now the suit is on sale, more and more people will get the chance to see Browning fly -- and maybe try soaring themselves. Gravity's team says a high profile, as-yet-unnamed client has nabbed the first one.
Source: (CNN Travels)
Photocredits: (CNN Travels).
Posted on July 2018,25 // Author: Admin