Blog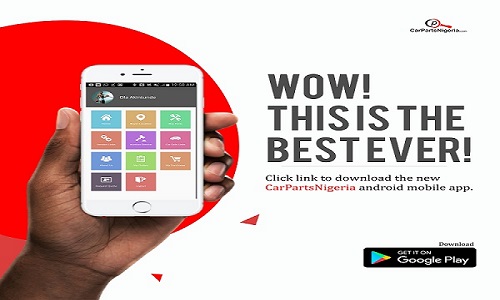 CarpartsNigeria Launches Mobile App
FOR IMMEDIATE RELEASE: January 30th 2018
CarpartsNigeria Launches Mobile App
The story that started three years ago is disrupting the auto parts & service sector in Nigeria. CarpartsNigeria (CPN), the online auto parts search Solutions Company is making it even easier to shop for auto parts & services. At pre-launch of its NEW mobile APP, the company received a 95% approval rating from testers and developers.
Brief History of CarpartsNigeria
The story of CarpartsNigeria started about three years ago. Its (CPN) approach to the auto sector of the Nigerian economy was built out of necessity to correct the challenges of shopping for auto-parts in Nigeria. Also out of the need to centralize parts inventory across the nation, a place to find difficult parts, reduce high prices and ensure trustworthy vendors can compete, while satisfied buyers can appreciate great business in sales and services.
CarpartsNigeria's platform shows unique and creative solutions that help meet clients' expectations in the auto parts buying and service sector, not only by realizing the clients' business objectives, but particularly by their strict adherence to the ethical principles of public relations, trust and integrity. They engage creative approaches to the clients' special needs in order to find unique and tailored solutions for their requests.
After been selected as one of the best 5 startups in Africa in 2015, also among the top 50 of the most innovative African startup in 2015 and representing Africa at the Global Entrepreneurship summit in California in 2016. CPN has clearly distinguished itself as a pacesetter in the online Auto parts & Service platform in Nigeria. It's fast expanding its business to Ghana and other Africa countries. The company has upheld its promise to stimulate and serve the auto industry and has maintained its commitment to a customer business friendly practice. To make the experience better for its customer, a mobile APP has been developed to simplify and further enhance the customer experience.
Release Date scheduled for February 14th 2018
Purpose CPN APP:
The necessity of the Car Parts Nigeria App is to make purchase of quality auto parts in Nigeria accessible to consumers. With the app we are making it easier for customers to interact, buy and generally do business with us.
The apps connect the customers to what they want faster without going through the internet. It solves a myriad of a problem particularly when you are on the move. Basically, the app helps you search for auto parts & services, cars available for sale, read auto related news on the blogs and also interact with the community on the forum page.
The website provides the same service but when on the move, these apps provide instant access without having to enter a URL and wait for the site to load, whereas it takes a second to launch the mobile app. Additionally, the app is to guarantee more presence on a phone than a browser bookmark, which also helps to build customer loyalty because we are in front of them at all times. This way, we increase our customer engagement.
The point of the app is to seamlessly connect and interact with customers, making it a valuable tool for the modern business. This is the initial release which is optimized for Droids, the IOS version would be available for downloads March 2018.
MERITS
CPN estimates that shopping on CarPartsNigeria.com should save an average of 4 hours a day of parts search per every individual looking for parts. This is an incredible amount of time savings that can make everyone more productive.
Using technology to enable people and cities
Time savings
Cost savings - Ability to compare parts pricing nationwide
Convenience
Ability to Review your vendors
Best in Customer Service
Best Car Sales deal in Town
Best Auction Site in Town
A real-time used and new auto parts database you can trust.
""FOR IMMEDIATE RELEASE"
Media Contact
Taiwo Awosusi, Media Manager
15 Adekunle Street, Yaba
Lagos – Nigeria
Office: +234 9099995678
Email: Enquiry@CarpartsNigeria.com
Website: www.carpartsnigeria.com
Download App: https://play.google.com/store/apps/details?id=com.carpartsnigeria&hl=en
Posted on January 2018,30 // Author: Admin