Blog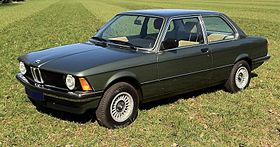 ThrowBack Cars In Nigeria: BMW 3 Series E21 Review.
It was initially available as a 2-door sedan, to replace the 02 Series. At launch, all models used carburetted 4-cylinder engines, however fuel injected models were introduced in late 1975 and 6-cylinder engines were added in 1977. A cabriolet body style - manufactured by Baur - was available from 1978 to 1981.
The BMW E21 is the first generation of the BMW 3 Series compact luxury vehicle and was produced from 1975 to 1983.
Manufacturer
BMW
Production
1975–1983
1,364,039 built
Assembly
West Germany: Munich
Malaysia: Kuching (SMI)
Designer
Paul Bracq (1972)
The frontal view of the new car was dominated by the BMW trademark kidney grille standing out clearly from the radiator cover. The styling of the new car bore a resemblance to the BMW E12 5 Series.
For maintenance of your cars, update on cars, reviews and news. Car Parts Nigeria is here to serve you and all your automobile complaints. Visit www.carpartsnigeria.com or call 09099995678 for your car maintenance, servicing (with close proximity to your location) and other issues pertaining to your automobile. We offer the greatest satisfaction to our customers.
Posted on March 2017,09 // Author: Admin