Blog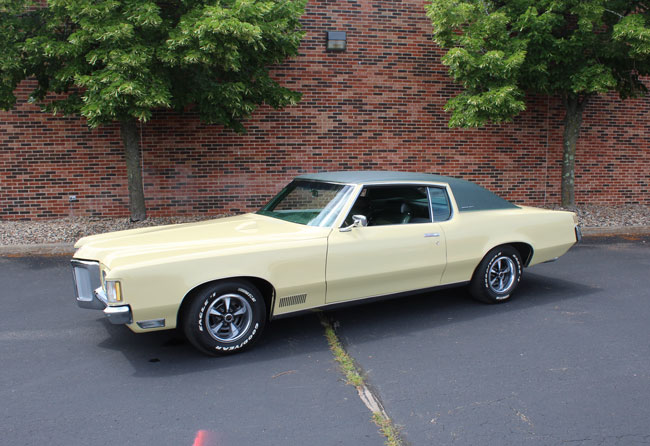 Throwback Thursday: 1970 Pontiac Grand Prix
Vertical grille inserts replaced the horizontal bars of the 1969, movement of "Grand Prix" nameplates from the lower cowls to the rear C-pillars and the vertical chromed louvers from the C-pillars down to the lower cowls, highlighted the 1970 Grand Prix. The optional 428 cu in (7.0 L) V8 rated at 370 and 390 hp (290 kW) in 1969 was replaced by a new 370 hp (280 kW) 455 cu in (7.5 L) with 500 lb·ft (680 N·m) of torque at 3,100 rpm. The base 350 hp 400 cu in (6.6 L) engine was still standard, but a low-compression 400 CID engine was available with a two-barrel carburetor. An automatic transmission was offered as a no cost option.
Interior trim also received minor revisions, and a bench seat with center armrest returned as a no-cost option to the standard Strato bucket seats and console. Bench seat-equipped Grand Prixs got a steering column-mounted shifter with the automatic transmission along with a dashboard-mounted glovebox, replacing the console-mounted shifter and glovebox of bucket-seat cars. Power front disc brakes became standard equipment this year.
Due to the success of the 1969 Grand Prix, other GM divisions followed suit and introduced similar cars for 1970. The Chevrolet Monte Carlo used the same basic G-body as the GP but with a two-inch shorter wheelbase (116 vs. the GP's 118) and a long hood, though still shorter than the Grand Prix's, but still considered an upscale vehicle for GM's lowest-priced division. Oldsmobile, whose larger and more expensive front-drive Toronado was a direct competitor to the Thunderbird, decided to further capitalize on strong sales of its intermediate Cutlass line by introducing a new Cutlass Supreme coupe with a formal roofline similar to the GPs but on the standard 112 in (2,800 mm) wheelbase used for two-door A-body intermediates and the same lower sheetmetal used on other Cutlass models. Both the Monte Carlo and Cutlass Supreme were also much lower in price, primarily due to smaller 350 cu in (5.7 L) standard engines for both, and that many items standard on the GP were optional on those models — however, all three cars with similar equipment were actually much closer in price than the base sticker prices suggest. The introduction of the Monte Carlo and Cutlass Supreme did, however, cut into the Grand Prix's dominance, and sales dropped 40%. 65,750 Grand Prixs were built in 1970.
Variations of the 1969 GP's central V-nose grille appeared on other 1970 Pontiacs including the full-sized cars and intermediate Tempest/Le Mans series. The 1970 Ford Thunderbird styling change was reportedly ordered by Ford Motor Co. president Bunkie Knudsen, who moved from GM to Ford in 1968 after a long career at GM which included the position of general manager for the Pontiac Motor Division from 1956 to 1961 and ordered the addition of the Grand Prix to the 1962 model lineup.
Posted on November 2017,02 // Author: Admin