Blog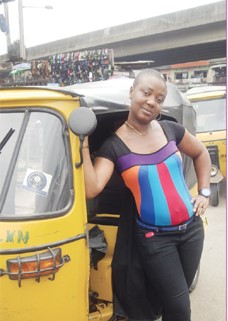 WCW: Mrs. Stella Iroaja, First Ikeja Female Tricyclist.
I opted for commercial driving to avoid sleeping around
Mrs. Stella Iroaja joins the higly male dominated business - Keke Napep (tricycle) business
Popular known as Iron Woman. According to her she lost her husband to brief illness and since then she has been catering for three children-two undergraduates and one secondary school student, plus other responsibilities.
She worked as a cleaner after leaving the job of supplying bread with motor bike commonly known as okada to raise capital for her present business. She added that, she stopped the bread supply business, when a ban was placed by the state government on the operation of commercial motor bikes on the major streets of Lagos.
An indigene of Imo state, she has been in this business for almost three years, instead of staying idle she has to find something doing to feed her children.
She is very proud to be the first woman to start riding the Keke Napep in Ikeja, other women have joined her after she started and it has been an eye opening business to them.
She narrated some of her challenges as a female tricyclist in Ikeja, She stated the problem of commercial bus drivers and the way they chase her out of the road due to their rough driving. Additionally, she explains the competition in picking passengers with the nonchalant attitude of the danfo drivers on the highway.
For maintenance of your cars, update on cars, reviews and news. Car Parts Nigeria is here to serve you and all your automobile complaints. Visit www.carpartsnigeria.com or call 09099995678 for your car maintenance, servicing (with close proximity to your location) and other issues pertaining to your automobile. We offer the greatest satisfaction to our customers.
Posted on April 2017,12 // Author: Admin