Blog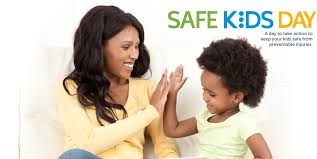 STOPPING CHILD DEATHS IN HOT CARS
These preventable tragedies demand education and technology solution

As summer temperatures rise, so does the risk of deadly heat strokes. Of particular concern are children left unattended inside a hot car.
Children can overheat much faster than an adult, making them especially vulnerable. When outside temperatures are in the low 80s, the temperature inside a car can reach lethal levels in only 10 minutes, even with a window rolled down two inches, Carpartsnigeria says.
Most parents would insist that they'd never forget their child in a hot car, but the risks are greater than you might thi... Read more
Posted on May 2016,11 // Author: Admin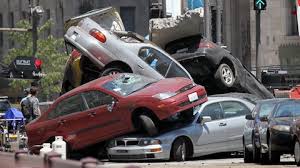 THE PROBLEM WITH CAR INSURANCE PREMIUMS
Auto insurance prices & How Third Party Insurance Works

By ROSEMARY ONUOHA
In Nigeria, it is compulsory to have motor insurance before using or keeping a motor vehicle on public roads. However, since most Nigerians buy insurance just to get cleared from law enforcement agents on the roads, they choose to go for third party motor insurance which is a lot cheaper than comprehensive policy.
Consequently, because of the preconceived notions that third party policy is just to beat law enforcement agents, many d... Read more
Posted on May 2016,10 // Author: Admin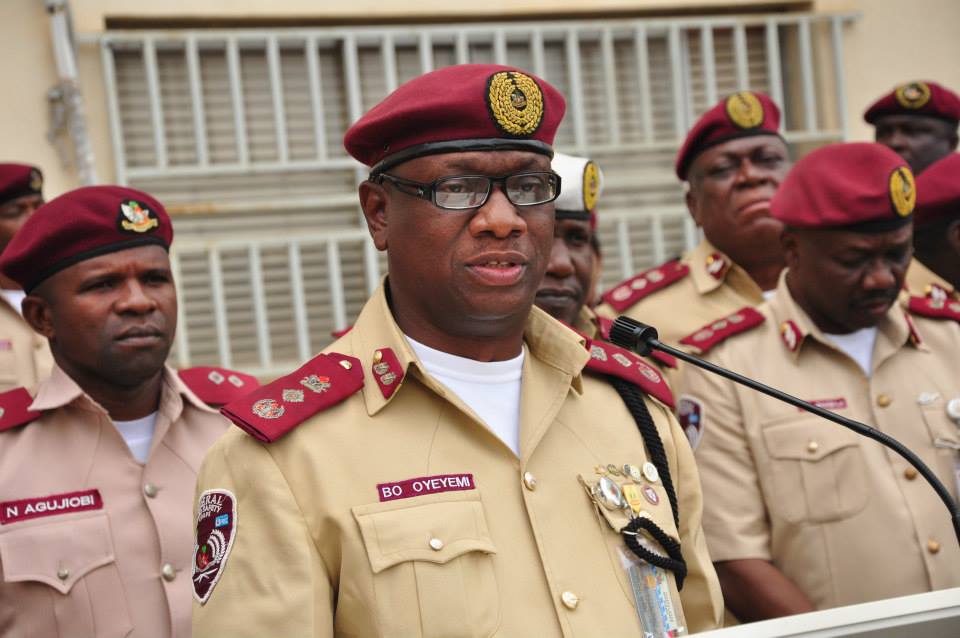 WORKING TO MAKE CARS AND ROADS OF THE FUTURE SAFER
Vehicles are safer than ever, but plenty of challenges remain
Carpartsnigeria unveiled its Top picks as part of this year's autos spotligth, an annual celebration of all things cars. Amid all that deserved hoopla, Consumers Union, the policy and advocacy arm of Consumer Reports US and Carpartsnigeria, are working to make sure that the vehicles and roads of the future are safer.
This week, Consumers Union presented its auto-safety priorities to the National Highway Traffic Safety Administration, joining other stakeholders at a listening session on the agency's strategic plan. We shared what w... Read more
Posted on May 2016,09 // Author: Admin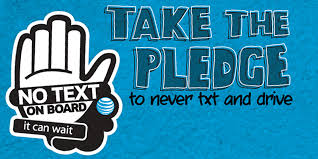 JOIN D PLEDGE: PUT DOWN THAT PHONE AND KEEP YOUR EYES ON THE ROAD
Talking, texting, and complicated car controls increase dangers
The Highway roads have become the domain of the distracted, with millions of drivers texting or talking on the phone instead of looking at the road ahead. The results of such behavior can be dangerous—and deadly. If you text while driving, you're 23 times more likely to crash, according to one government study. And in 2011, more than a thousand people were killed and 3,000 were injured in crashes involving a distracted driver.
Phone usage isn't the only culprit. Dashboard technology, including Internet-connected infotainme... Read more
Posted on May 2016,09 // Author: Admin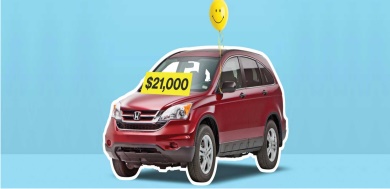 IN PURSUIT OF USED CAR HAPPINESS
Opting for an almost new car allows you to upgrade your aspirations
Buying a used car doesn't have to be a compromise. It can be an opportunity to own a more substantial make and model you may not be able to afford on the new-car market.
The median price paid for a recent-model used cars—one built since 2011—is $18,000 when purchased from a used-car dealer and $21,000 from a franchised new-car dealer, according to a recent Consumer Reports national survey.
That may seem like a lot, but it's about $10,000 less than ... Read more
Posted on May 2016,06 // Author: Admin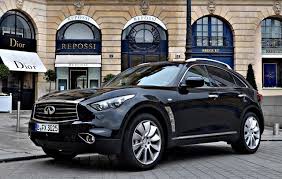 DARING INFINITI QX SPORT INSPIRATION CONCEPT UNVEILED IN BEIJING
The new Infiniti QX Sport Inspiration concept car has made its global public premiere yesterday at the 2016 Beijing Auto Show, exploring the brand's vision for a premium mid-sized SUV.
The QX Sport Inspiration follows a series of highly acclaimed concept cars such as the Q30 Concept, QX30 Concept, and Q60 Concept. The QX Sport Inspiration concept explores a vision of how Infiniti could once again demonstrate this successful approach in the mid-sized SUV class, one of the largest and fastest-growing premium segments. The new concept also lays down markers for the design, layout, and engineering of future Infiniti QX models.Read more
Posted on May 2016,06 // Author: Admin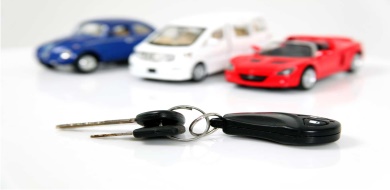 PEOPLE NEED TO KNOW: RECALLED RENTAL AND USED CARS SHOULD BE REPAIRED BEFORE YOU GET THE KEYS
Transportation Secretary calls on Federal Government to close a dangerous safety gap
If a new car is recalled for a safety problem, it's illegal for a dealer to sell you that car until the issue has been fixed. However, no similar protection exists for a person who buys a recalled used car or rents a recalled car. Under current federal law, rental-car companies and used-car dealers are not required to fix a defect—or even tell you about a problem—before you drive the vehicle off the lot.
This gap in safety law puts milli... Read more
Posted on May 2016,04 // Author: Admin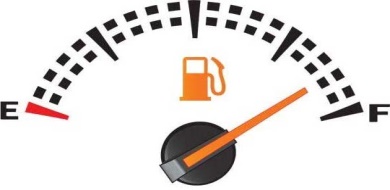 NEW FUEL-ECONOMY STANDARDS ARE DRIVING SAVING AND INNOVATION
You don't have to sacrifice affordability, comfort, or wow factor by buying a gas-sipping car
When consumers shop for a new car, most are looking for ways to save money on gas: Two-thirds of car buyers expect their next vehicle to provide better fuel economy than their current one, according to a recent Consumer Reports national survey.
Today, the average Read more
Posted on May 2016,03 // Author: Admin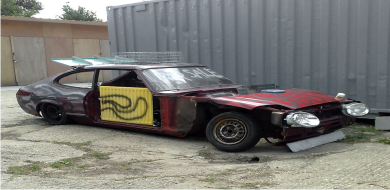 CONSUMER REPORTS NAMES THE BEST AND WORST CARS BY BRAND
Don't judge a car by its brand—all makes have highs and lows
...Carpartsnigeria

We're often asked, "Who makes the best car?" The reality is, every brand offers models that perform across a spectrum, with some being demonstrably better than others. To further aid water-cooler discussions, we have analyzed our test results to compile a list that chronicles the best and worst models.

The overall test score variation differs from brand to brand, with some brands' worst model being still doing rather well, while others span a wide range, making any generalities quite misl... Read more
Posted on May 2016,03 // Author: Admin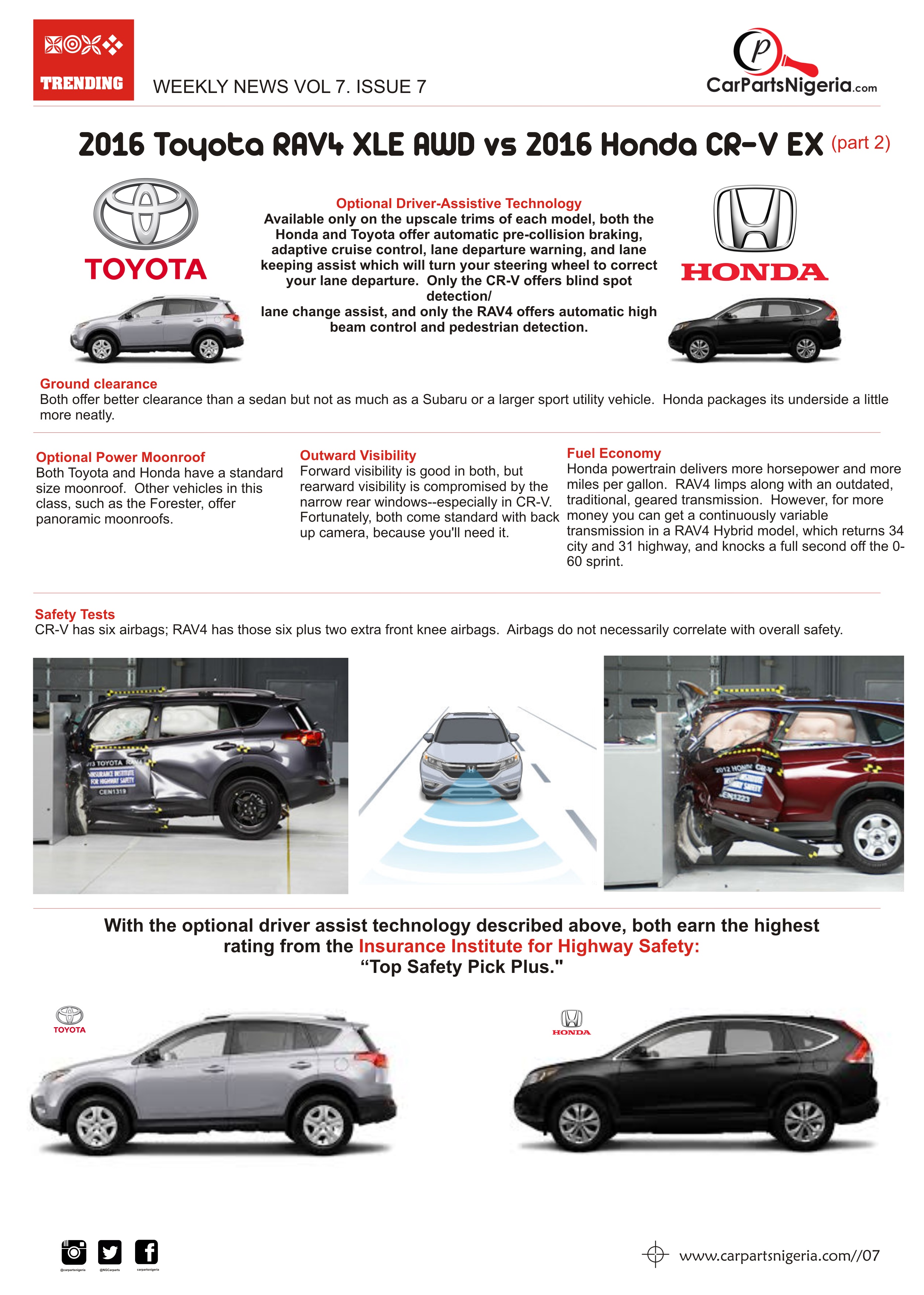 2016 TOYOTA RAV4 XLE AWD vs 2016 HONDA CR-V EX AWD (pt. 2)
Carpartsnigeria Special Issue Vol:7 Executive Summary reviews that both of these "Small Sport Utility Vehicles" are about the same size and offer value, space, and fuel economy. Priced almost the same at about $26,000 comparably equipped, you can drive a safe, stylish, and practical vehicle with a great reputation for quality. You can get either one with front wheel drive or all wheel drive, though the many safety and performance benefits of all wheel drive are well worth the small price premium.

Motor Trend was so impressed with Honda's improvements to the CR-V that they named it 2015 Sport Utility of the Year. ... Read more
Posted on April 2016,29 // Author: Admin